Rockin' Food Festival 2020
We regret to inform you that sadly we have had to make the tough decision to cancel the Enniscorthy Rockin' Food Festival 2020, due to the COVID-19 pandemic and recent Government restrictions on events this summer.
Wexford's ultimate Summer festival will be back in 2021.  It blends the perfect mix of the things we love most about summer – delicious food, great music and family fun.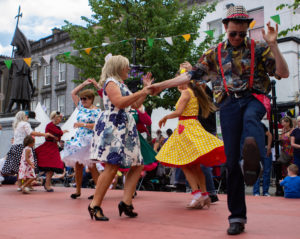 So, what to expect at Rockin' Food?
Check out some the amazing Rock 'n' Roll bands taking to our Outdoor Main Stage & Dancefloor. This year's lineup will feature some of Rock 'n' Roll's finest Irish and International talent such as "The Revolutionaires", "The Hicksville Bombers", "Sharnae May & The Mayhems" and many more to be announced.
Our fabulous Food, Drink and Craft Market will be returning with over 80 different vendors. There's bound to be something that will tickle your taste buds and definitely lots of new flavours to discover and explore. Food lovers can expect a huge range of variety from crackers, cakes and confectionary, jams, chutneys, relishes and sauces to vegan burritos, pizzas, hotdogs and snails. Yes, snails!
There will also be a fresh line up of chefs and producers to check out at the FREE Food Marquee. Tune into a cookery demo with some local Wexford chefs such as Paul Hynes of La Cote or our celebrity chef Edward Hayden or catch a food producer talk and tasting. Our schedule keeps building and we will be announcing the official timetable very soon.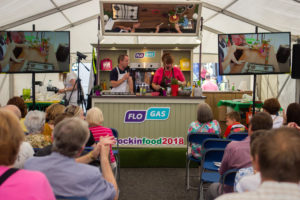 Our younger festival-goers can look forward to lots of fun activities, events and workshops in the Kids Marquee or spend some time at the Kid's Play Zones or Ferris Wheel. We will be hosting lots of fun events and activities such as bouncy castles, Ancient East Storytelling, Go Paddle Kayaking Sessions, Sword Making as well as a variety of new interactive, hands-on workshops we're sure you're going to love. keep an eye out for the announcements.
Once the little ones are all tired out, the adults can enjoy some of the exclusive Food & Drink Fringe Events that will be happening across the town. 
There's something on offer for all ages, tastes and budgets at Rockin' Food Festival so save the date and start planning your trip to Enniscorthy, Co. Wexford. A weekend you don't want to miss.