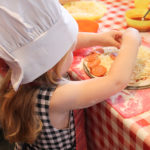 Who doesn't love pizza?
Its time to hit the kitchen, get hands on and make your very own pizza. Receive your apron and chefs hat upon arrival and make your way to the pizza making station.
You'll be guided step-by-step through the pizza making process from rolling your dough, spreading the sauce and adding your favourite toppings. You might even see the pizza making master toss the dough up the sky!
Once baked, take a seat and sample and enjoy your pizza with a refreshing drink after all of your hard work.
Pizza Making will take place on Friday 3rd, Saturday 4th, Sunday 5th and Monday 6th August at 12pm and 2pm.
Ticket Price: €10.00 per person