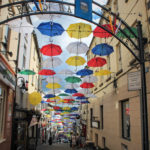 A classic treasure hunt with a modern day twist.
Test your exploration skills around Enniscorthy town by following our specially designed map which is available on the day at our festival information desk. Uncover each of the clues and take the ultimate selfie while following the instructions provided in each of the key locations such as under our famous umbrella street.
Upload your selfies using our hashtag #rockinfood2018 and the best selfies will be the winners of a deserving prize.
The Hunt is FREE to enter and begins at 12pm Saturday 4th and runs into Sunday 5th. All selfies must be uploaded in time for the announcement of the winners which will be on our Facebook page at 4pm Sunday 5th.