Description
Learn the Art of Truffle Making with Karen and Natalie from Bean and Goose Chocolate.
An adult chocolate truffle-making workshop with Karen and Natalie Keane, sisters and founders of Bean and Goose Chocolates.
Bean and Goose are one Ireland's most creative chocolatiers. Based at Last Tree Farm in Wexford, they make the most exciting and delicious single origin chocolate creations and are coming to The Wilds in Enniscorthy to show you how to do the same. Not only will you be learning from one of the best chocolatiers in Ireland but you will leave laden with your own self-made truffles to enjoy.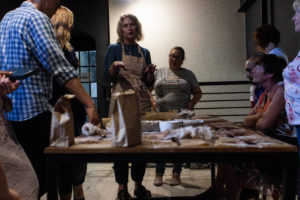 This 2.5 hour workshop is a fantastic introduction to the art of truffle making. You will be welcomed with a Summer cordial on arrival while you relax and enjoy your surroundings. Then the workshop begins and you will learn the art of ganache infusing and truffle rolling. After a demonstration, you will work in small groups to create your chosen herbal or fruit infusion. You will then combine this with single origin chocolate and Irish butter to create a rich ganache before rolling and finishing your own truffles.
For more information about Bean and Goose, check out their website, www.beanandgoose.ie
Venue: Last Tree Farm, Ballydonigan, Tinnacross, Ferns, Co. Wexford, Y21D935
Date: Friday August 2nd
Time: 2:30pm to 5pm
Ticket Price: €45