If you are planning to Rockin' Food Festival in Enniscorthy, Co. Wexford and aren't entirely sure how to get to us, don't fret, because below is a detailed account of the many ways in which you can travel to and from Enniscorthy as well as getting around once you've arrived.
By Car
Depending on your exact departing and final destination, Enniscorthy is approx 90 minutes to 2 hours away from the Capital city Dublin. If directions are not your thing there's no need to panic as getting to Wexford from Dublin is as simple as following the N11 all the way south!
If you want to plan your route in advance from any corner of the country, visit www.aaireland.ie for the best routes and reliable navigation.
Car Hire Companies
Hertz Car Hire –  053 9152500
Enterprise Rent – A – Car – 053 9174678
Ferrybank Motors Ltd  – 053 9122544
Budget Car Rental Rosslare –  053 9133318
Special Events Limos – 087 6597600
Wexford Volkswagen – 053 9167900
By Bus
Wexford is a very accessible county if you choose to travel by bus.
The Wexford Bus service operates 16 services per day to and from Dublin (including the city centre and airport) and also regular services to and from Waterford, from its many stops dotted across the county such as Enniscorthy, Ferns, Gorey and New Ross to name a few. Wexford Bus offers a trustworthy service in providing comfortable and affordable transport.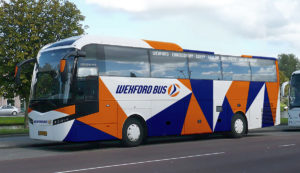 For full details on bus stops, route numbers and timetables go to www.wexfordbus.com .
Ireland's primary bus service Bus Eireann also runs daily services to and from Dublin city and Airport as well as to the main bus station Bus Aras which has routes travelling all over the country. Directly from Wexford you can also travel to Waterford and even as far as county Kerry which is literally from one corner of Ireland to another.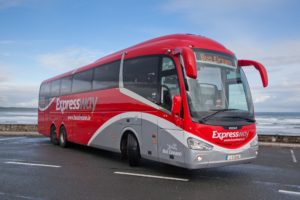 For full details on bus stops, route number and timetables go to www.buseireann.ie
Ardcavan Bus company departs O'Connell street, Dublin and brings you straight into Wellingtonbridge where you are within walking distance from local B&B's which are also close to Bannow Bay, the site where the Norman's first arrived. They also offer a service running back up to Dublin Airport.
For full details, go to www.ardcavan.com
By Train
There is a train station in Enniscorthy as well as 4 other stations across the county – Gorey, Wexford Town, Rosslare Harbour and Rosslare Europort. If you are travelling from Dublin Airport by train, there is a connecting coach service that travels directly to Bus Aras (the main bus station) and from here, Connolly Train Station is a mere 2 minute walk where you can board a train down to any of Wexford's stations.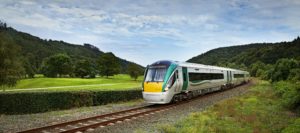 See www.irishrail.ie for details regarding stops and timetables.
Steam Train
You can also avail of the Vintage Steam Train which boards in Dublin and takes guests to the Rockin' Food Festival on Sunday August 4th. Full details can be found here.
By Air
The four airports in Ireland are:
Dublin Airport – This airport is the gateway to Ireland with routes to and from destinations all across the globe. From here you can take either the train, the bus or hire your own car for your visit. Full details are available on dublinairport.com
Waterford Airport – Wexford's closest airport which offers a range of flights to and from the UK. Upon arrival there is a car hire and taxi service available to drive you to the nearest bus and train stations. Full details are available on flywaterford.com
Cork Airport – Cork airport runs flights to and from many UK and European destinations. The 2 hour drive from Cork to county Wexford allows you to see the gorgeous scenery that the South of Ireland has to offer. Full details are available on corkairport.com
Shannon Airport – This airport offers flights from a variety of UK, European and US destinations. 2 and half hours away from county Wexford, the drive is the perfect opportunity to see the South East of Ireland.
By Sea
Just 15 minutes from Wexford Town, Rosslare Europort is a gateway into Wexford from both the UK and France. This is a car ferry however, if you choose to travel without your car there are buses, trains and taxis available on site to take you into the heart of county Wexford and beyond.
Full details available on www.irishferries.com and www.stenaline.co.uk
Getting Around
There is a vast amount of taxi services available in Wexford:
Wexford Cabs – 053 9123123 (Wexford)
Wexford Discovery Taxis – 087 6411111 (Wexford)
T & J Taxis – 053 9128168 (Wexford)
AA Cabs – 053 9140222 (Wexford)
Clonard Cabs – 053 9170999 (Wexford)
TK Cabs – 053 9237888 (Enniscorthy)
1st Cabs – 086 8733789 (Wexford)
Bualadh Bus Cabs – 087 3299900 (Enniscorthy)
Dempsey Cabs – 053 9143438 (Wexford)
Enniscorthy Cabs – 053 9236666 (Enniscorthy)
Lenehan's Taxi – 087 6558586 (Gorey)
Creagh Cabs – 087 1492217 (Gorey)
Dinny – 086 0252590 (New Ross)
Pat Murphy – 087 7772016 (New Ross)
Tommy O' Connor – 087 8383230 (New Ross)
Local Link
And also a local bus service "Local Link" – you can view there routes and timetables by Clicking Here
Access for All
For information on "Access for All" toilets, parking, beach wheelchairs etc please Click Here