Sleep Under the Stars at #rockinfoodfestival
We are delighted to say camping and campervan facilities for the Rockin' Food Festival will once again be
provided by Ajax Athletic AFC, only a 5 minute walk from all of the activity!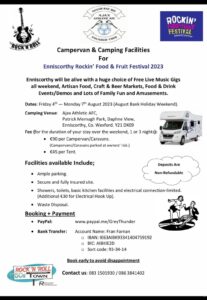 Make your festival experience an extra special experience and sleep under the stars.
The camping facilities are a mere 5 minute walk from the hub of all festival activity and are kitted out with showers,
toilets and basic kitchen facilities.
The grounds are fully secure and insured for your peace of mind and there is ample parking space.
Spaces are limited, so make sure and get booked in early to avoid disappointment.
If you have any queries or would like to book, contact 083 1501930, 053 9232006 or 086 3841402.