#rockinfood2019 will have a fresh Rock 'n' Roll line up scheduled with the best of both local and International talent. We have lots of Gigs scheduled around the town in a variety of venues. There will also be outdoor live music taking to the main stage on Saturday and Sunday not to be missed.
Here's a list of some of the top class bands and artists we have seen at last year's festival:
The Bellefords
Tom Cat & Zodiacs
Class of 58
Riley and the Moonrockers
The Rockets
Cado & The Delta Cats
Memphis Lee & The Creepers
Gavin Povey & The Fabulous Oke-She-Moke-She-Pokes
The Backbeats
Cherry Divine
Livestock Davies & The Low Down Snakes
John Lewis & His Rock 'n' Roll Trio
BP Rockabilly Band
Kav Kavanagh & The Low Down Snakes
The Runawayz
The Melodies
Highway 51 South
Deville Rebels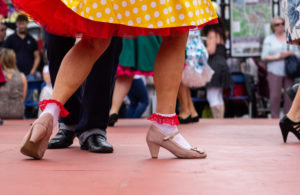 All of these fantastic gigs are free to attend on the Main Outdoor Stage and some are also appearing in other venues around the town. Make sure and check them out and support the venues who are hosting these gigs.